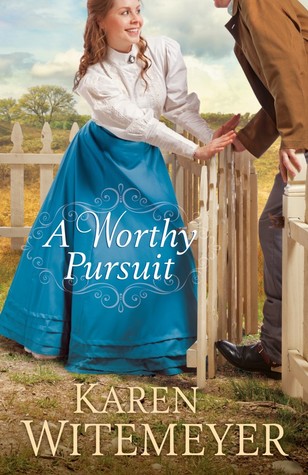 By Karen Witemeyer
Book Review Written By Bethany
Book Synopsis:


Stone Hammond is the best tracker in Texas. He never comes home empty-handed. So when a wealthy railroad investor hires him to find his abducted granddaughter, Stone eagerly accepts.

Charlotte Atherton, former headmistress of Sullivan's Academy for Exceptional Youths, will do anything to keep her charges safe, especially the little girl entrusted to her care after her mother's death. Charlotte promised Lily's mother she'd keep the girl away from her unscrupulous grandfather, and nothing will stop Charlotte from fulfilling that pledge. Not even the handsome bounty hunter with surprisingly honest eyes who comes looking for them.

When the teacher he's after produces documentation that shows she's the little girl's legal guardian, Stone must reevaluate everything he's been led to believe. Is Miss Atherton villain or victim? She acts more like a loving mother than an abductress, and the children in her care clearly adore her. Should Stone break his perfect record?

Then a new danger threatens, and Charlotte is forced to trust the man sent to destroy her. Stone becomes determined to protect what he once sought to tear apart. Besides, he's ready to start a new pursuit: winning Charlotte's heart.
// Bethany's Book Review //
Anyone who has been reading my book reviews for a while now, will know that Karen Witemeyer is hands-down one of my favorite authors, and has been for some time. So obviously I was rather thrilled when I learned she had a new book coming out, and eagerly read it as soon as I received it in the mail! I'm so glad that I did, as this book is a very exciting one that I'm glad to be adding to my collection of Karen's books, in their designated place on my shelf.
Karen Witemeyer is known for her fun-loving, western themed novels, full of strong female characters and a humorous western feel, and this book didn't fall short of those standards! This book definitely had those traits that I've come to love in Witemeyer's writing style, and I absolutely enjoyed every page of this novel! Due to a very busy schedule with my work, I wasn't sure how quickly I'd be able to finish this book, but I quickly found that I had the hardest time putting it down, which is always a plus! The story was very funny, and moved along at a steady pace, making me not want to close it!
As always, I fell in love with Witemeyer's characters. I loved how she included some children as main characters in this book, and enjoyed the aspect of the other character's personalities that they brought out. The story itself was very engaging and quite an adventure, sure to please any proud
Texan with the western theme!
I'd highly recommend this book to all fans of Witemeyer's novels, or fans of western historical fiction, as this one is sure to not disappoint!
D I S C L A I M E R :: I received a complementary copy of A Worthy Pursuit from the publisher, for the sole purpose of this review. I was not paid to write this review, and all thoughts expressed are completely my own and unbiased.