Hello bookish friends! Today I thought I'd share you with a few novels that I've recently learned about, that are scheduled to release in 2015. I don't know about you, but as a book nerd, I always get really excited about upcoming books, and cover reveals. So I thought it'd be fun to share some of them over here, in case you haven't heard of these exciting books to put on your waiting list! Please do share in a comment if you are excited about any upcoming releases, or let me know if maybe I missed any! Have a great day and happy waiting! :)
{All book covers and descriptions taken from GoodReads}
By Lynne Gentry
The Carthage Chronicles // Book #2
Howard // January 6th, 2015
"A twenty-first-century doctor travels back in time to third-century Carthage to rescue her husband, but the arrival of a deadly epidemic forces her to make an impossible choice in this fast-paced second novel in The Carthage Chronicles series.

Dr. Lisbeth Hastings salvaged two things from her accidental trip to the third century: her mother's stethoscope and her child. Making a life for her daughter Maggie back in the present is difficult, but returning to ancient Carthage is impossible. However, when Lisbeth learns her husband is slated to die a martyr's death, she must find a way around the impossible to save him.

Cyprian Thascius returns from political exile a broken man. He's lost his faith, the love of his life, and his purpose. When Ruth, an old friend, proposes he marry her to restore his position and protect his estate, the disgraced nobleman accepts. But when Cyprian's true love suddenly reappears, his heart becomes as imperiled as the fledgling church.

As Lisbeth and Cyprian reunite to battle a new epidemic and save the oppressed community of Christians, the chasm between the two of them seems too wide to bridge. But when Maggie contracts typhoid, Lisbeth must choose: stay and save the man she loves, or return home and save her daughter?

Filled with gripping action and raw emotion, this incredibly compelling adventure of star-crossed lovers will keep you engrossed with every turn of the page."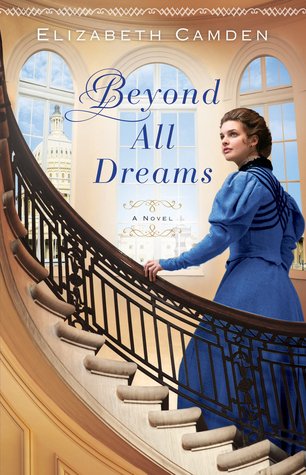 // Beyond All Dreams //
By Elizabeth Camden
Bethany House // January 6th, 2015
"Sweeping and Romantic Historical Drama from an Award-Winning Author

Anna O'Brien leads a predictable and quiet life as a map librarian at the illustrious Library of Congress until she stumbles across a baffling mystery of a ship disappeared at sea. She is thwarted in her attempts to uncover information, but her determination outweighs her shyness and she turns to a dashing congressman for help.

Luke Callahan was one of the nation's most powerful congressmen until his promising career became shadowed in scandal. Eager to share in a new cause and intrigued by the winsome librarian, he joins forces with Anna to solve the mystery of the lost ship.

Opposites in every way, Anna and Luke are unexpectedly drawn to each other despite the strict rules forbidding Anna from any romantic entanglement with a member of Congress.

From the gilded halls of the Capitol, where powerful men shape the future of the nation, to the scholarly archives of the nation's finest library, Anna and Luke are soon embroiled in secrets much bigger and more perilous than they ever imagined. Is bringing the truth to light worth risking all they've ever dreamed for themselves?"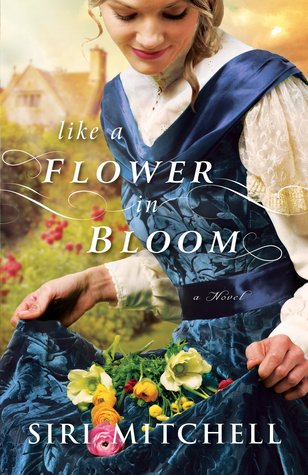 // Like a Flower in Bloom //
By Siri Mitchell
Bethany House // January 6th, 2015
"Victorian-Era England Comes Alive in This Witty Romance

For years Charlotte Withersby has worked as an assistant to her father, an eminent English botanist. As she approaches the old age of twenty-four, her father pushes her out into society, swayed by an uncle who believes God's only two roles for women are marriage and motherhood. When one of the Withersbys' colonial correspondents, Edward Trimble, returns to England, he's drafted as the new assistant so Charlotte is free to marry. This suits Edward's plans quite well, since the last thing he wants to do is reunite with the family he is ashamed to call his own.

Though Edward proves himself vexingly capable on the job, Charlotte won't surrender the job without a fight, and schemes with her best friend to regain her position. Perhaps if a proposal seems imminent, Charlotte's father will see his error and ask her to return. Charlotte tries to make headway in her town's social life, but reveals herself to be unaware of all the intricacies of polite society. Though Edward pitches in, tutoring her in society's expectations, she just seems to make things worse. And the more she comes to know of her father's assistant, the more trouble she has imagining life without him. Caught in a trap of her own making and seeing the hopelessness of her prospects, will Charlotte get to keep her work or will she have to cede her heart?"
// Steadfast Heart //
By Tracie Peterson
Brides of Seattlee // Book #1
Bethany House // January 6th, 2015
"Lenore Fulcher isn't pretentious despite her spoiled upbringing. Her deepest desire at the age of twenty is to find true love. However, her father believes she's wasted enough time searching for a suitable husband, and he wants to marry her off to one of his business partners--thirty-seven-year-old James Rybus. But the idea of marriage to a man so much older is out of the question for Lenore.

Kolbein Booth, a lawyer from Chicago, arrives in Seattle looking for his headstrong sister who he believes may have answered an advertisement for mail-order brides. Sick with worry, he storms the Madison Bridal School, demanding to see his sister, only to learn she isn't there. But Lenore Fulcher is, and something about her captures his attention.

Is this the man Lenore has been searching for? She may not have long to find out..."
// How to Catch a Prince //
By Rachel Hauck
Royal Wedding // Book #3
Zondervan // February 24th, 2015
"Prince Stephen came to America to escape responsibility. But what he found complicates his life more than ever.

Corina Del Rey is happy with her life in Melbourne, Florida. She spends her days engrossed in her career as a journalist and has her sights set on climbing the corporate ladder if for no other reason, to distract herself from her dissolving family. But when she is confronted with the past she fought so hard to put behind her, she struggles to make sense of her future.

Prince Stephen of Brighton Kingdom has moved on since the tragic death of his buddies in Afghanistan. A star professional rugby player, he has no intention of looking over his shoulder at what could ve been.

But when a notice arrives in the mail requiring his and his wife s appearance before the courts to dissolve their marriage, he must deal with the questions rumbling around in his heart. He thought his marriage had been annulled long ago, but his memories of Corina Del Rey remain close. Does he still love her? Can he even find her? Above all, can he tell her the truth about that fateful night in Afghanistan seven years ago? If he does, he might really lose her forever."
By Jannette Oke & Laurel Oke Logan
Return to the Canadian West // Book #2
Bethany House // February 2015
Book description currently unavailable.
// Remember the Lilies //
By Liz Tolsma
Thomas Nelson // February 2015

"Irene and Rand come from very different walks of life. Will they find common ground in their fight to survive?

Irene has grown up in the jungle as a missionary with her Aunt Anita, but now she and countless others are imprisoned by Japanese soldiers at the Santo Tomas Internment Camp in the Philippines. Irene and her aunt are safe there, and she keeps busy with her duty of delivering censored messages to the camp's prisoners, but like everyone else, she prays for the war to end and for her freedom. Rand is a wealthy, womanizing American, whose attempted escape from the internment camp has put himself and others in danger. When Rand and Irene's Aunt Anita meet one another in the hospital, Irene learns more of his story and her heart is determined to save his family. But the danger outside the walls of the hospital worsens every day, and life in this exotic place is anything but luxurious. Can Irene find Rand's family before they disappear forever? And can a humble missionary woman and an arrogant man find common ground in the face of their biggest fears?"
By Jen Turano
Bethany House // March 3rd, 2015
"After years of working in a millinery shop, Miss Harriet Peabody dreams of the day when she'll open up her own shop and sell re-fashioned gowns to independent working women like herself. When a delivery errand goes sadly awry, her job--and her chance at saving enough for her shop--is at stake all due to a rather unfortunate misunderstanding with a customer.

Mr. Oliver Addleshaw enjoys a certain position in society, but his real aim is to follow in the footsteps of men like Cornelius Vanderbilt. On the verge of his biggest business deal yet, he learns his potential partner prefers to deal with men who are settled down and respectably married. As matters stand, Oliver's ex not-quite-fiance recently became unhinged and lost a poor shop girl her job. Oliver feels bad for the hapless Harriet and, hoping to kill two birds with one stone, asks for her help in making a good impression in his business deal.

Harriet dives into the circles of high society head first, only to find that her love of fashion can't make her fashionable. She'll never truly fit into Oliver's world, but just as she's ready to call off the fake engagement, fancy dinners, and elegant balls, a threat from her past forces both Oliver and Harriet to discover that love can come in the most surprising packages."
// A Sparrow in Terezin //
By Kristy Cambron
A Hidden Masterpiece Novel #2
Thomas Nelson // April 2015
Two women, one in the present day and one in 1942, each hope for a brighter future. But they'll both have to battle through their darkest days to reach it.

"Today. "With the grand opening of her new gallery and a fairytale wedding months away, Sera James appears to have a charmed life. But in an instant, the prospect of a devastating legal battle surrounding her fiance threatens to tear her dreams apart. Sera and William rush to marry and are thrust into a world of doubt and fear as they defend charges that could separate them for life.

"June 1942. "After surviving the Blitz bombings that left many Londoners with shattered lives, Kaja Makovsky prayed for the war to end so she could return home to Prague. But despite the horrors of war, the gifted journalist never expected to see a headline screaming the extermination of Jews in work camps. Half-Jewish with her family in danger, Kaja has no choice but to risk everything to get her family out of Prague. But with the clutches of evil all around, her escape plan crumbles into deportation, and Kaja finds herself in a new reality as the art teacher to the children of Terezin.

Bound by a story of hope and the survival of one little girl, both Sera and Kaja will fight to protect all they hold dear."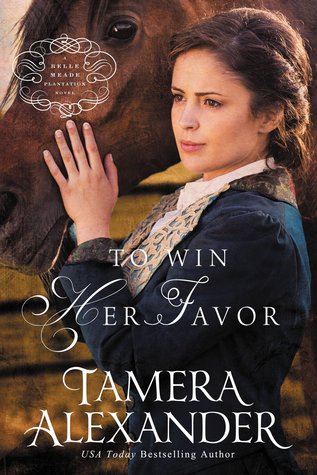 By Tamera Alexander
Belle Meade Plantation // Book #2
Bethany House // May 19th, 2015
"A gifted rider in a world where ladies never race, Maggie Linden is determined that her horse will become a champion. But the one man who can help her has vowed to stay away from thoroughbred racing for good.

An Irish-born son far from home, Cullen McGrath left a once prosperous life in England because of a horse racing scandal that nearly ruined him. He's come to Nashville for a fresh start, hoping to buy land and start a farm, all while determined to stay as far away from thoroughbred racing as possible. But starting over proves harder than he'd wagered, especially when Maggie Linden's father makes him an offer he shouldn't accept yet cannot possibly refuse.

Maggie is certain that her mare, Bourbon Belle, can take the top purse in the annual Drayton Stakes at Nashville's racetrack––the richest race run in America. Maggie only needs the chance to prove it. To give her that chance, and to save Linden Downs from being sold to the highest bidder, Maggie's father––aging, yet wily as ever––makes a barter. His agreement includes one tiny, troublesome detail––Maggie must marry a man she's never met. A man she never would have chosen for herself.

Cullen and Maggie need each other in order to achieve their dreams. But their stubborn, wounded hearts––and the escalating violence from a "secret society" responsible for lynchings and midnight raids––may prove too much for even two determined souls."
// Price of Privilege //
By Jessica Dotta
Price of Privilege // Book #3
Tyndale // 2015
Book description currently unavailable.